If you read these lines on our site, it is very possible that you are familiar with the concept of standards that have the EN, ISO, and SRPS marks. Many people, however, didn't deal with the significance of standardization and often have the first thought first of something strictly, unified and non-creative.
Standards are part of our everyday life, and we often are not aware of it. People often have difficulty buying clothes, because size labels are not compliant, they wait for payment because the bar code is poorly printed, buy a product of lower quality than expected or a device that is not compatible with the rest of the technical equipment, etc.
In spite of everything stated, there is often resistance to the concept of standardization, because it is perceived as a unification of the organization and an exposition of additional costs. The truth is quite different. The standard gives us the opportunity to (as soon as possible and as easily as possible) get the expected business outcome.
What are the standards and what is their purpose?
Standard is a document that contains requirements and guidelines relating to the particular environment that is the subject of standardization. Standardization is the process of application of standards in order to create, edit or improve a product or process, with the ultimate goal of eliminating problems and maximizing efficiency in work. These are the most common standards:
CE – Compliance with the European Directive (shortened from "European Conformity") that guarantees compliance with health, safety and environmental standards.
ISO – International Standards (International Sertification Organization)
EN – European standard label
SRPS – a Serbian standard mark (this prefix is given to ISO and EN standards after the Institute for Standardization of Serbia adopts them)
Standards can generally be divided into two groups: standards relating to products (services) and standards relating to the functioning of organizations.
1. Standards relating to products (services) include a set of guidelines and instructions on how the product development process (service provision) should work, in order for that product to meet the expected quality. Whether the product complies with the standard is eventually evaluated by an authorized laboratory, which issues a certificate of conformity.
2. Organization-related standards are set of guidelines that systematise work in a particular system. The best known of this group is the standard ISO 9001 – quality management system standard. This standard has been implemented even by large sports clubs, and it has been widely used in all types of organizations – educational institutions, state administration, micro and macro companies.
The meaning of standardization is, above all, facilitating the process of work and improving the quality of the final product. By correct application of the standard, the work is accelerated, possible problems are easier to solve, the improvisation is reduced to the lowest level. Standards also serve to ensure that within a company it is not necessary for each new (or old) employee to explain individually how something should be done. Instead, it's enough to send him a document with instructions on how to do it.
The best known standards in this area are:
ISO 9001 – Quality management system standards
ISO 14001 – Environmental Management Systems
OHSAS 18001 – Health and Safety Management System
HACCP: Hazard analysis and critical control points
ISO 27000: Information security management systems
ISO 31000: Risk management
Are standards really necessary?
The answer is clear – YES. But what's important to know is that standards are NOT MANDATORY. This feature differs them from norms or regulations. So who wants to do business in a way that will provide a product or service of adequate quality to the end user will automatically introduce the appropriate standard. Another prejudice is that the inplemetation of standards takes away the autonomy of the organization and in some way unifies it. The standard actually provides guidelines and tools, but technical implementation is always in the hands of the organization.
For example, the ISO 9001 standard just encourages the organization's specific features, such as the organizational structure of the company, the resources it has, the market in which it operates.
ALBO and standards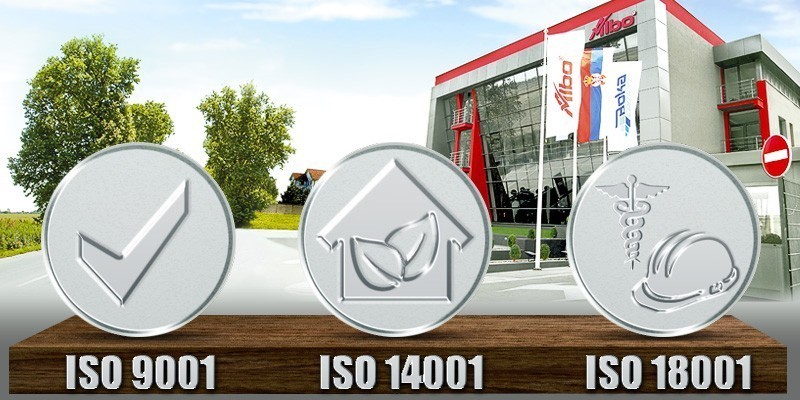 Company Albo d.o.o. has implemented the following standards in its business:
• ISO 9001: 2008
• ISO 14001
• OHSAS 18001: 2008.
In addition to doing business in accordance with the highest world standards, we offer our customers products that are certified to the highest world, European and Serbian standards..
Accordingly, following the requirements of the modern market, Albo has implemented a business B2B portal for ordering goods. In this way, we have enabled customers to have an instant insight into the quantity of goods, quick and easy ordering, without paperwork, waiting and postponing.
The ALBO's mision is to raise awareness of the importance of personal protective equipment and, therefore, to create a safe work environment, as well as healthy and satisfied workers. Our mission is what we see as the essence of business, but each essence also needs a form that enables its realization. Accordingly, the standards are our allies, who help us on a daily basis to successfully accomplish our mission.