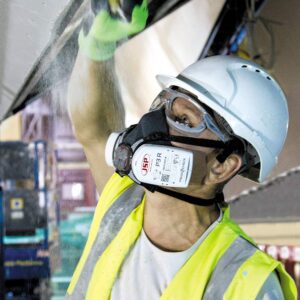 Using different types of filters, protective masks provide protection from both solid particles and pollution in the form of gases and vapors. Valved respirators with minimal inhalation resistance allow for easier breathing, so wearers can work more comfortably without tiring quickly. This means that the worker is protected and can perform work tasks smoothly and more effectively.
We have presented the types of means for the protection of respiratory organs, types of contamination and the method of selection on our blog, and you can read more about it by clicking HERE.
WHY Force®8
JSP's innovative and high-quality respiratory protective equipment is developed and tested in a dedicated quality assurance laboratory, ensuring superior performance levels are achieved and maintained.
Half mask JSP Force 8 represents reliable, certified protection of respiratory organs. The mask is made from durable thermoplastic rubber which offers a comfortable and secure fit to most face types. It has a 4 point suspension harness with quick release buckles, which keeps it securely in place.  The mask features JSP's Typhoon exhalation valve which reduces humidity, which keeps the mask cool when in use. CR2 reflective strips increase visibility for additional safety in low light areas.
Certified protection
Force 8 half mask meets the requirements of the following standards: EN 140 (front part), EN 14387:2004 (filter performance), EN 143:200 (filter performance).
Comfort during wear
The Force 8 half mask is made of light, flexible and durable thermoplastic rubber that adheres perfectly to the face and is comfortable to wear.
Excellent sealing and fit to different face shapes is additionally achieved thanks to the 4-point suspension harness with quick release buckles. This way of adjusting and placing the mask allows the user to adjust it so that he is comfortable enough while wearing it, without compromising his safety and health.
Typhoon exhaust valve
Exhaust valves contribute to reducing breathing resistance and improving comfort, and can be of different performance levels.
The JSP Typhoon™ valve is designed to ensure that air can easily escape through the valve and that there is minimal resistance when breathing. A high-performance valve like this reduces the user's breathing effort, i.e. contributes to comfort and convenience while wearing a half mask.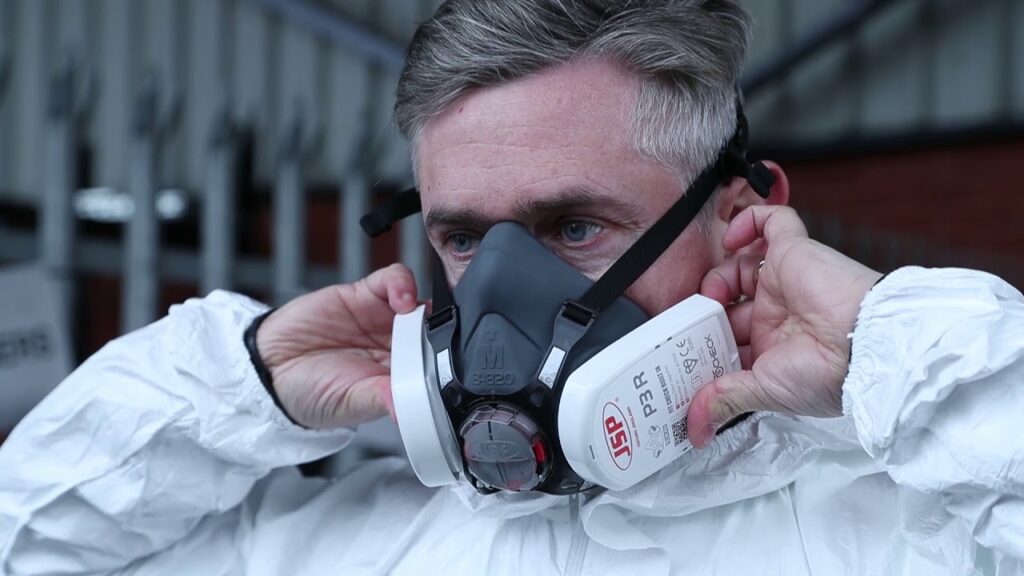 Press-to-Check™ filters
Force 8 half mask is used with filters with "bayonet" hanging and replacement system, which minimally reduces the field of vision. (The bayonet filter can be changed during work time, without the risk of contaminated air entering the mask. If both bayonet filters are removed from the mask, it is not possible to breathe in the mask).
A special innovation when it comes to bayonet filters that this mask uses are the Press-to-Check™ filters. Thanks to their revolutionary design, they allow workers to quickly and reliably check for optimal sealing before entering the zone of increased risk.
Press-to-Check™ filters are designed for minimal breathing resistance. The filter cartridge allows air to flow through the entire filter chamber to maximize performance.
Reflective details
The half-mask has built-in reflective strips that create greater visibility for workers when performing tasks in conditions of reduced visibility, which contributes to the additional safety of workers.
Where it is used
JSP half mask Force 8 is used in the chemical and petrochemical industry, in the production of fertilizers, in laboratories, medicine, pharmacy, agriculture, construction and in performing all tasks that require appropriate protection of the respiratory organs.
It is not intended for use in specific conditions of oxygen deficiency – below 19% by volume or in conditions where it is over 25%.
The range of the Albo company includes numerous JSP products for the protection of respiratory organs. From us you can get a Force 8 half mask and corresponding filters, which are intended for protection against different types of particles, gases and steam. When choosing the best means to protect the respiratory organs, it is necessary to be careful with regard to the identification of contamination, that is, the selection of filters. Call our friendly team today for further details and expert advice on all of your PPE and respiratory protection needs.