WORKING TOGETHER
Albo is the leader in terms of occupational safety. We want and we can do more and better. What leads us is one simple and powerful idea – the world without work related injuries.
That is why we directed all our forces towards this goal. We invested our knowledge and experience, a reputation that has been built for years and respect that we have accomplished by devotion and hard work. Every employee in our company thinks about this goal and is committed to its realization. That goal is the top of the mountain that we want to reach and proudly plunge our flag on it. Most importantly, we know that we will achieve this goal. Because everything we do, we work for you and with you. Working together.
ALBO COMPANY – SINCE 1992
Albo was founded in 1992. as a family-owned company. Today, after 30 years the founders – father, mother and two sons – are leading a company that employs over 300 people.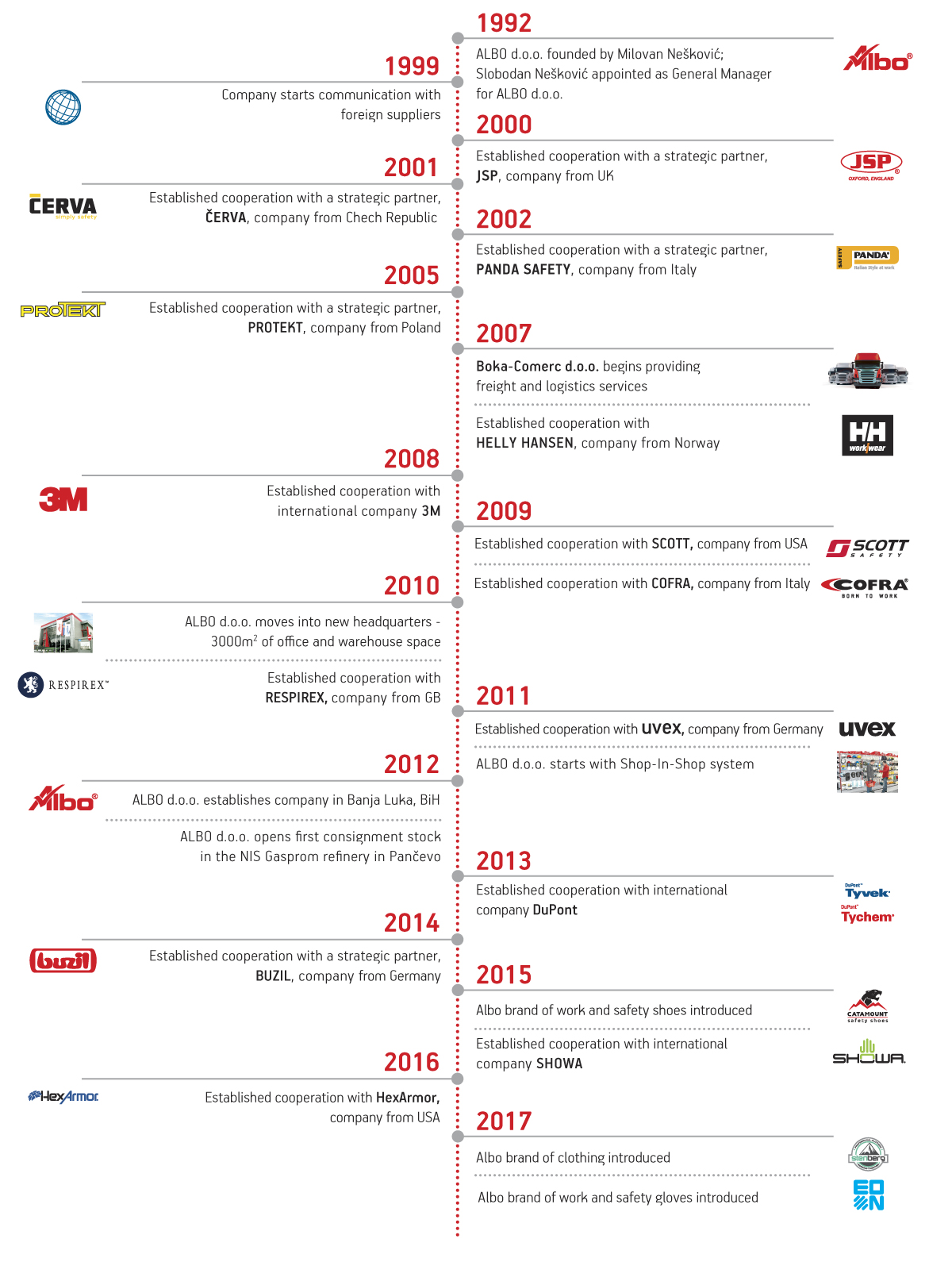 As years passed Albo expanded its assortment, a list of renowned suppliers, as well as the number of employees. Today, we can proudly offer complete range of personal protective equipment, as well as the additional assortment – emergency equipment, professional chemicals for occupational hygiene, paper goods and occupational safety equipment. As a market leader, we have over 6000 products manufactured in accordance with European standards and the Serbian Law on PPE (PPE Directive 89/686 / EEC). Some of these products have been offered since the very beginning of the company, but we also offer technologically innovative products, which represent the use of the latest scientific discoveries. This reflects the company's approach to general business – we appreciate the tradition, but we accept innovations and are ready to step up, emphasizing quality and reliability. However, we do not forget that Albo was created by its employees.
VISION
Our vision is to provide healthy and satisfied workers and make work related injuries become a thing of the past. Your safety is the most valuable goal we aim for. In today's dynamic work environment, it is necessary to be ready and equipped for all potential risks, and this is only possible by investing in science and applying modern technological solutions. Knowing this, we insist on sustainable, responsible business, with a focus on investing in people, ecology and science.
MISSION
Albo strives to raise awareness of the importance of using modern items for personal protection – for management, but also for workers in high-risk jobs. Working closely with customers and suppliers, we provide safe and innovative products of high-level security standards that satisfy the needs of more than a half million people in Serbia every day. In addition to selling the highest-quality personal protective equipment and providing complete after-sales service, Albo shares the knowledge and experience of using modern personal protective equipment in various work environments. We dedicated more than twenty years of experience in the field of personal protective equipment to your safety. We believe that the human factor is irreplaceable in the complete work process and service, and that's why we are trying to invest in our employees and thus provide the highest quality support and protection for your employees. We want users of our products to feel safe and comfortable while working and to be protected at any moment
WHAT DOES ALBO MEAN TO US AND OUR PARTNERS?

Active and professional: we are reliable, professional, quality, accurate and we put our knowledge in the service of your security.
Leader: we follow global trends and introduce new trends in our region, we are innovative, we develop ourselves, as well as the products, we grow and we want you to grow with us.
Belonging: We appreciate family values, we belong to the same team, we are here for you
Obligated to preserve: We take care of ecology and society – we care about people (employees, associates and social values), as well as ecological resources
WE ARE HERE FOR YOU
to help you decide
to offer you the best choice
to make the product available to you
to give you the best advice
To make your job safer
ALBO PEOPLE
Our company is not only numbers and big deals, our company is not the products, nor the huge office space. Albo was created by the people and Albo is people that work here. With more than 300 employees, small fluctuation, constant growth and employment of quality new employees, Albo has progressed from a small and dedicated family business to a successful regional company that appreciates all employees.
Our employees are constantly improving through internal and external trainings. We care about their satisfaction and career development within the company, because this is the only way we can enable them to be fully committed to your safety at any moment.
We are proud of the fact that our biggest capital are the people and interpersonal relationships that we nurture.
LOCATION
Albo is located in Zemun. Within our building there is a modernly arranged showroom (over 200 m²), where selected products from each group of personal protective equipment are exhibited. There is also a team of professional commercialists who provide support and help our customers, both through on-site support and through post-sales activities.
Albo owns one of the most modern warehouses in our area with more than 11000 m² of warehouse space and a total of 10 000 pallet space. This allows us to have constant availability of products, because of the large stock. More than 60 warehouse workers are in charge of efficient and fast customer service. Operations in the warehouse are carried out in accordance with the current safety standards. In the warehouse operation, Albo applies a developed monitoring system, quantitative and qualitative control in accordance with the procedures described in SRPS ISO 9001: 2008 QMS (QU.75 and QU.77).
INFORMATION SYSTEMS AND B2B

Following the global trends, Albo upgraded the information system and introduced a business B2B portal for ordering goods. The B2B portal provides instant insights into the status and availability of the goods and ensures fast and easy information flow. Thanks to this system, ordering is simplified, without paperwork, waiting or delay. Business is transparent, managing orders is simple and always available, so the goods are quickly delivered to the customers. Our suppliers, employees, distributors and users are overwhelmed because we save their time and reduce unnecessary costs, optimizing the availability of information.
DISTRIBUTION

Albo's success lies in the fact that the safety of our customers is most important to us. We are in the service of your protection and we have done everything to make our products available. Developed network of responsible and successful distributors and elaborated logistics system ensure that Albo is present all over Serbia, as well as Bosnia, Montenegro, Macedonia, Slovenia and Croatia. We offer our customers contact and recommendations for cooperation with our distributors, their warehouses, and deliveries with our support, which ensures that everyone, anywhere can get an adequate service and product at any time.
In addition to the developed wholesale network, our commercialists have also provided an assortment for retail, so high-quality protection is no longer a luxury available to companies only, but every electrician, gardener or painter can get superior protection in local stores.
RESPONSIBLE BUSINESS
Albo implemented SRPS ISO 9001: 2015, SRPS ISO 14001:2015 and SRPS OHSAS 45001: 2018. We are proud of the fact that the goods we offer to our customers are certified and in accordance to the current European and Serbian standards, in addition to the fact that we operate in accordance to high global standards within our company.
Albo relies on sustainable development and responsibly operates. Sustainability supports the overall business goals of the company and consists of three important parts: social, environmental and financial responsibility. We are proud of the fact that Albo is a socially responsible company, which invests in the community and takes care of the environment. Our employees went through numerous trainings and acquired certificates for maintenance and control of goods, as well as training of equipment users. Such employee expertise is one of the main things that makes Albo the leader in the field of occupational safety.
Po izboru Privredne komore Srbije i bonitetne kuće Coface, Albo doo je svrstan u grupu uspešnih i pouzdanih preduzeća.